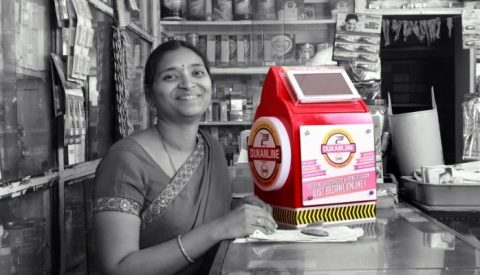 Online businesses are increasingly charting out strategies to create an offline presence to reach next billion consumers
in both tier II and III cities,
E Commerce in India has made tremendous inroads with the consumer base. The way the market has managed to escalate quickly and appeal to customers across age groups and demographics has trumped all expectations. However, there is still a gap when it comes to optimising market potential. We have a population of roughly 1.25 billion of which the portion of online buyers is a miniscule 30 million. With technological innovation, India's e-commerce businesses need to leverage the huge possibilities that offline commerce still offers in the country.It is estimated that Ecommerce share will be 3% out of Indian retailer spend by 2020. At the same time matured Ecommerce markets like America after 15 years . E Commerce share is 6% of Total retail share. This proves that there is GAP which can be bridged through Technology.
In India, traditionally, most buyers prefer to purchase at local retailers' stores. This is simply because the trust factor is much higher in these transactions and for several kinds of products, even the most tech-savvy customer, likes to get comfort and trust with seller before shelling out cash. It has therefore become imperative now for online platforms to create avenues through which they can reach out to the billion consumers who have still not taken to e-commerce or aren't ready to embrace it fully. If online retail is brought offline successfully, it will also benefit consumers greatly as they will be able to take advantage of the competitive price points and pan-India inventory that only e-commerce can offer as of now.
As the understanding of bringing online commerce offline becomes deeper, we are seeing a kind of new wave in Indian e-commerce. Several industry leaders are looking at hybrid models to amalgamate the best of both forms of retail. Online businesses are increasingly charting out strategies to create an offline presence through physical stores to reach next billion consumers in both metros and tier II and III cities and towns. Some of them believe that their product lines are such that customers prefer a real interaction with Human seller over a purely virtual one. Many others are setting up brick-and-mortar stores as a brand building exercise rather than as a step that further propels business. The underlining point is that a consumer who isn't online should be able to buy your products and also gain a brand salience about your business through its physical presence and this is where many online retailers are now focussing.
There are other technology-backed headways that are being made in this direction with great agility. For instance, customers can now be connected to e-retailers through electronic devices/points of sale through their trusted neighbourhood stores. They can access the inventory of various online businesses, choose the product they like, get assistance on details over the telephone and book the order by depositing cash at the local store.
A model such as this makes the myriad benefits of online commerce accessible to the remotest of locations in our country and to the most hesitant of online shoppers. The business landscape naturally gets a solid shot in the arm as it is able to tap the immense prospects that still lie untouched in India. Also, since the consumer makes the payment upfront with the local store or vendor, the problems associated with Cash on Delivery get mitigated to a large extent. The local retailers profit as they can sell many more products and services and earn more by just being the facilitator for the end consumer without investing extra in space or inventory.
The devices that store the data of e-commerce platforms can also be sold to housewives who wish to become financially independent by taking orders on behalf of their friends and family. The buyer, this way, gets a sort of added security regarding their money as the transaction is being conducted through a trusted member of the community.The opportunities, therefore, and the creativity with which such models can be applied are numerous and will be the way forward for commerce in the country.
By truly bringing the benefits of online commerce on offline channels, businesses can generate tremendous value for themselves as well as the consumers from even the lowest end of the purchasing pyramid. Online retailers also get a chance to expand their networks and also their horizons by selling products that may not find a ready market in the realm of conventional e-retail. Customers know that they have a brick-and-mortar location to look to in case the item is not up to their expectation, enhancing their propensity to buy such products through these hybrid models. A perfect blend of the advantages of online and offline retail, therefore, seems to be the way forward for the Indian market and is set to become the ideal way in which e-commerce can make its next big leap into the future.
We at iPay launched and Pivoted this Business model called Dukanline(Dukan+Online). Aapke Local Online Dukan. To our Surprise Local Kirana Stores now selling items which they never dreamed of selling. Now Kirana store is not just Kirana store with our Dukanline Brand and Our Technology Business in A Box POS . Now Any retailer can sell E Inventory of 1000s of products and serve his catchment area.
The author is Founder & CEO, IPay –